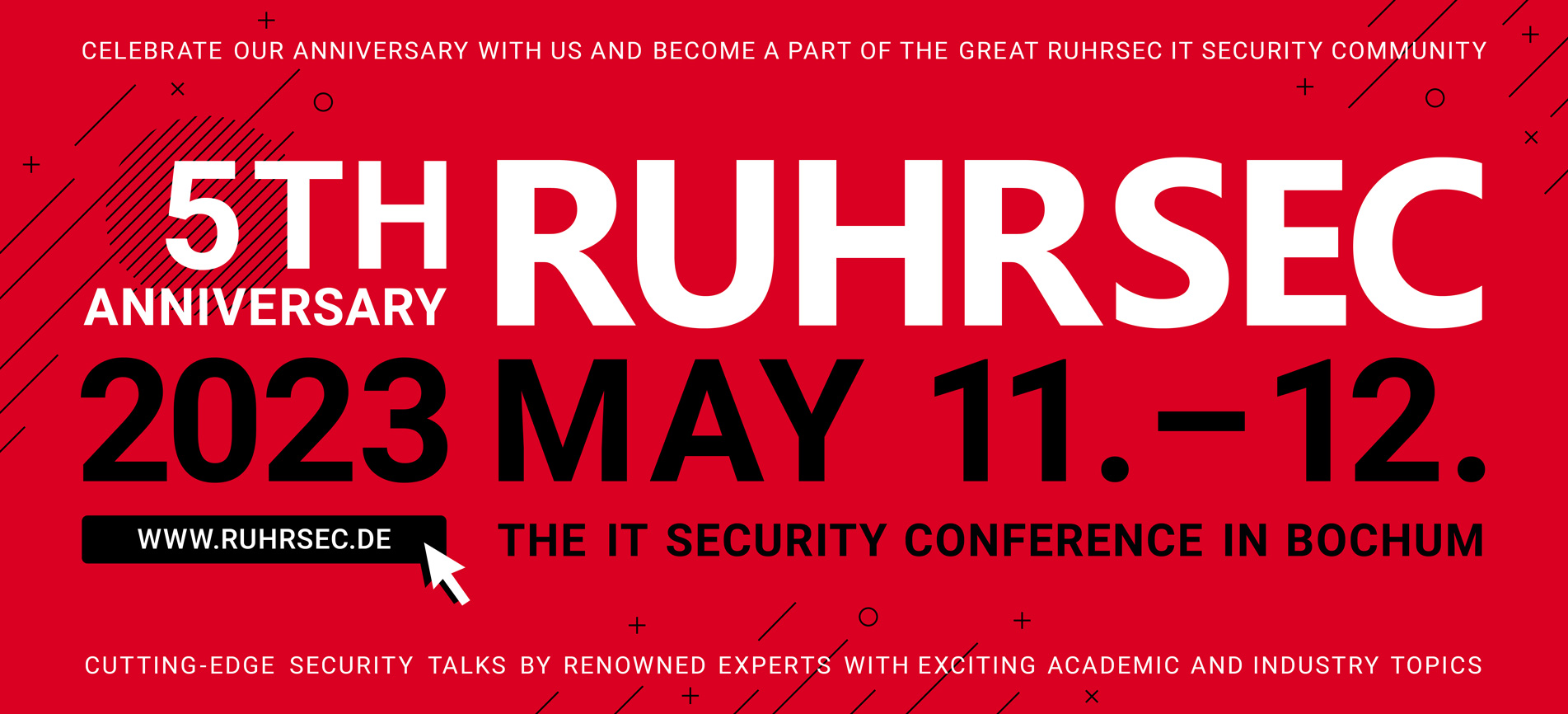 Countdown to RuhrSec 2023
0

Days

0

Hours

0

Minutes

0

Seconds
RuhrSec - IT security conference - 2023
Since 2016, RuhrSec is the annual English speaking non-profit IT security conference with cutting-edge security talks by renowned experts. The conference is hosted at the Ruhr University Bochum in Germany, directly in the heart of Bochum near the river Ruhr. RuhrSec provides academic and industry talks, the typical University feeling, and a highly recommended social event.

Get the latest RuhrSec news on Twitter, Linkedin, or by subscribing to our newsletter.

Call for Presentations
For RuhrSec 2023, we have once again a call for presentations. Areas of interest are (but not limited to) Internet/Web Security, Data and Application Security, Network Security, Security in the Internet of Things, and Usable Security.

Please submit your proposal to the RuhrSec program committee until the 08th of January 2023. Your talk must have a length of 40 minutes (+5 minutes Q&A) and it has to be in English. Each speaker gets a free conference ticket, access to the awesome evening event, and a travel reimbursement up to a limit of EUR 1,000 (economy).

How to increase your chances of being accepted?
When submitting your proposal, please include the preliminary structure of your talk, and (if possible) a first version of your slides. Also, include videos and/or slides of your previous talks. All additional information will help us to evaluate your proposal. Please contact us in case that you have any questions.

The call for presentations is closed now.
Thank you to all participants!
The program committee will start to evaluate all submissions now and inform the participants soon.

The program committee consists of: Christian Mainka, Karsten Meyer zu Selhausen, Marcus Niemietz, and Juraj Somorovsky (Hackmanit)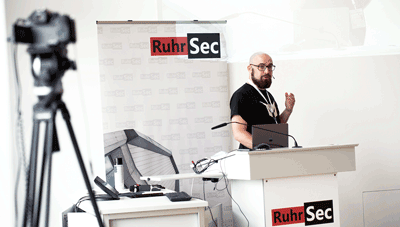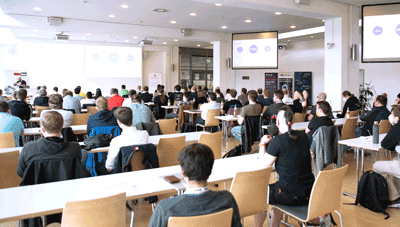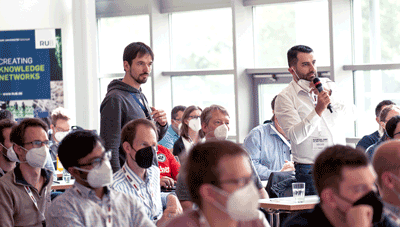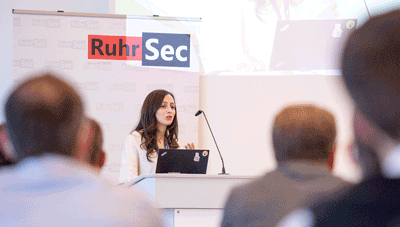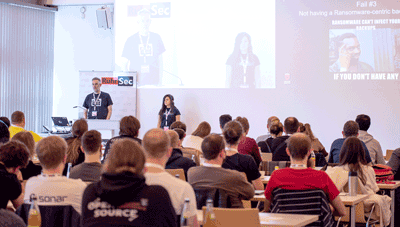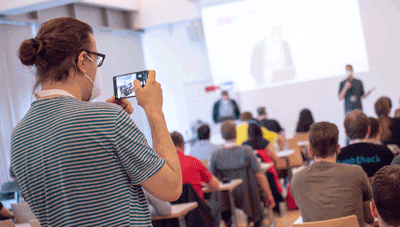 Organizers / Sponsors / Supporters
Interested in becoming a RuhrSec sponsor for 2023?
Feel free and contact us to learn more about the RuhrSec sponsorship:
ruhrsec@hackmanit.de
Conference (Ruhr University Bochum): Thursday, 11.05.23
The order of the talks might be adjusted before the conference.
| | |
| --- | --- |
| 08:00 – 09:00 | Registration and Biscuits/Coffee |
| 09:00 – 09:15 | Opening, Marcus Niemietz |
| 09:15 – 10:00 | Keynote: Crypto War 3: From the DMA to Chatcontrol, Ross Anderson |
| 10:00 – 10:30 | Coffee Break |
| 10:30 – 11:15 | SQUIP or Why We Need to Study Processors Like Nature, Stefan Gast and Daniel Gruss |
| 11:15 – 12:00 | ShowTime: CPU Timing Attacks With the Human Eye, Antoon Purnal and Marton Bognar |
| 12:00 – 13:30 | Lunch |
| 13:30 – 14:15 | You Can't Always Get What You Want – How Web Sites (Often) Lack Consistent Protection, Sebastian Roth and Ben Stock |
| 14:15 – 15:00 | Everything You Wanted to Know About DOM Clobbering (But Were Afraid to Ask), Soheil Khodayari |
| 15:00 – 15:45 | Coffee Break |
| 15:45 – 16:30 | Security of Push-Services, Jörg Schwenk |
| 16:30 – 17:15 | Your Wi-Fi Is the Eavesdropper's Radar: How to Counter Privacy Threats of Wireless Sensing, Paul Staat |
| 17:15 – Open End | Social Event (incl. Dinner) |
Conference (Ruhr University Bochum): Friday, 12.05.23
The order of the talks might be adjusted before the conference.
| | |
| --- | --- |
| 08:45 – 09:15 | Biscuits/Coffee |
| 09:15 – 10:00 | Keynote: Towards High-Assurance Cryptographic Software, Karthikeyan Bhargavan |
| 10:00 – 10:30 | Coffee Break |
| 10:30 – 11:15 | We Really Need to Talk About Session Tickets: A Large-Scale Analysis of Cryptographic Dangers With TLS Session Tickets, Sven Hebrok |
| 11:15 – 12:00 | Content-Type: multipart/oracle - Tapping Into Format Oracles in Email End-to-End Encryption, Fabian Ising |
| 12:00 – 13:30 | Lunch |
| 13:30 – 14:15 | Server-Side Browsers: Exploring the Web's Hidden Attack Surface, Marius Musch |
| 14:15 – 15:00 | Hand Sanitizers in the Wild: A Large-Scale Study of Custom JavaScript Sanitizer Functions, David Klein |
| 15:00 – 15:30 | Coffee Break |
| 15:30 – 16:15 | CPU Fuzzing: Automatic Discovery of Microarchitectural Attacks, Daniel Weber and Michael Schwarz |
| 16:15 – 17:00 | Federated Learning and Its Application for a Privacy-Respecting Android Malware Classifier, Veelasha Moonsamy and Rafa Gálvez |
| 17:00 – 17:15 | Closing |
Every participant with a valid conference ticket is invited to be our guest at the social event.
Details
Location: TBA
How to get there: TBA. More information is given before the first talk.
Time: After the first conference day (>=17:00 o'clock)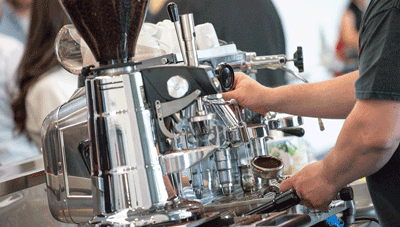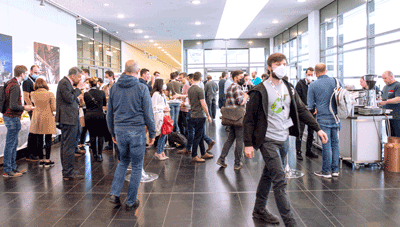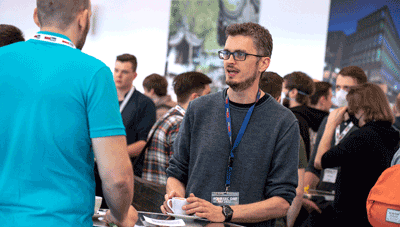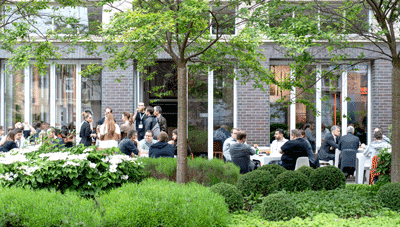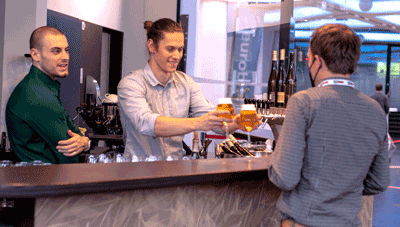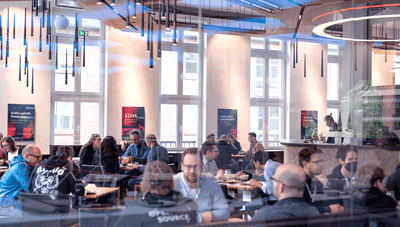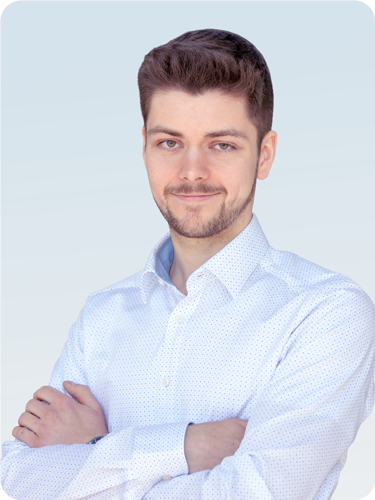 Hackmanit GmbH
Universitätsstraße 60 (Exzenterhaus)
44789 Bochum
Our Phone:
+49 (0)234 / 54459996
Fax:
+49 (0)234 / 54427593
Our Email:
The RuhrSec conference is organized by Hackmanit - Your Specialist for Web Security and Cryptography.

The company Hackmanit was founded by employees of the Ruhr University Bochum, working at the Horst-Görtz Institute for IT Security. Hackmanit has in-depth knowledge about the security of Web applications (e.g., Cross-Site Scripting, UI-Redressing and Clickjacking), Web services, Single Sign-On, SSL/TLS, and applied cryptography. The company mainly focuses on providing services such as practical trainings, high-quality penetration tests, and customized expertise.